Åland Stags Rugby Club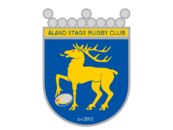 Åland Stags Rugby Club
Åland Stags Rugby Club
This is Åland and Mariehamn's first and foremost rugby club. This is for you who want to enjoy full speed competitive sport together with your team. There is rugby for both men and women.
Founded by Ramus Basilier in 2013, The team first competed at Stockholm 10's in 2013. In 2014 the team recruited Dutch coach Ruben Dykstra, who led the side into the Swedish development league.
However in the Stags third season they decided to affiliate themselves with the Finnish Rugby Federation, finding themselves in Division 1. The side recruited Welsh man Curtis Bradford to play at Fly Half, as well as assisting Rasmus with coaching duties.
The Hinds were also founded by Rasmus, but are yet to play in a series of any kind. However they were looking to take part in Helsinki RC's Midnight Rugby tournament and potentially Stockholm 10's.
Follow the site to get the latest news and results straight to your email
Contact List

Calendar
| Mon | Tue | Wed | Thu | Fri | Sat | Sun |
| --- | --- | --- | --- | --- | --- | --- |
| | | | | | 1 | 2 |
| 3 | 4 | 5 | 6 | 7 | 8 | 9 |
| 10 | 11 | 12 | 13 | 14 | 15 | 16 |
| 17 | 18 | 19 | 20 | 21 | 22 | 23 |
| 24 | 25 | 26 | 27 | 28 | 29 | 30 |
| 31 | | | | | | |